Here Are Tax Lien Investing Resources From The Tax Lien Lady…
for information on Coaching see the Coaching Page
Tax Lien Investing Basics
Learn the basics of investing in highly profitable tax liens and tax deeds, how to find the best place to invest and where to get the tax sale information. This course consists of 2 video recordings, 4 audio recordings, 2 handouts, and Tax Lien Lady's State Guide.
Your Investment $197


Tax Lien Investing Secrets
If you not making enough profit in your invest accounts or losing money to the stock market, then this online learning program is a powerful way for you to start building a profitable portfolio tax liens or tax deeds.
This web based coaching program will guide you through the seven steps to building a profitable tax lien or tax deed portfolio. It includes 7 video and audio training sessions, along with handouts and the tools and resources that you need to be a successful tax lien investor.
Your Investment $1497

Buying Tax Liens Online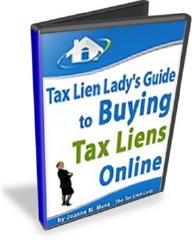 Want to know how you can invest in safe, high yielding tax lien certificates from the comfort of your home? This web-based coaching program will show you how.
More counties have online tax lien sales each year. This course is constantly updated to give you the states, counties, and municipalities that have online tax lien sales, including step-by-step information for registering and bidding at these tax sales. This training course includes webinar replays, video tutorials, and a the guide to online tax lien sales – with links to all of the online tax sale websites.
Your Investment $297