Build The Foundation For YOUR Profitable Tax Lien Portfolio!
Announcing The Tax Lien Investing Basics System- The First Program To Help You Understand Tax Lien Investing, Find the Best Place to Invest, and Get Tax Sale Information!
Double Digit Returns Without Risk

Learn how you can invest in safe high-yeilding tax lien certificates from the comfort of your own home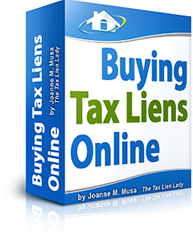 Tax Foreclosure Fortunes

The Complete Step by Step GUIDE TO CASHING IN ON TAX DEED PROPERTIES WITHOUT GOING TO THE TAX SALE!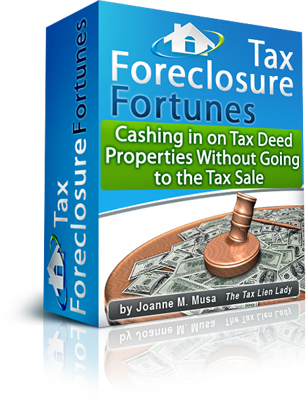 Tax Lien Investing Software
Automate Your Tax Lien Investing!
A PROVEN System That Lets "Non-Techies" Manage, Track,
and Profit Like a Pro From Your Tax Lien Investing Portfolio...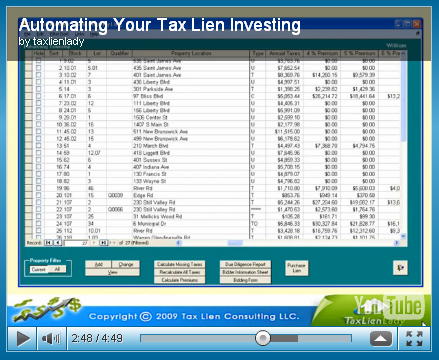 Finally! The Step-by-Step System And Support
You Need To Be a Successful Tax Lien Investor!
Tax Lien Lady's Members Area
Where You Go To Learn How To Build Your Tax Lien Portfolio
And Get In On The Next Monthly Member Training!
Tax Lien Lady's
"Build Your Profitable Tax Lien Portfolio!"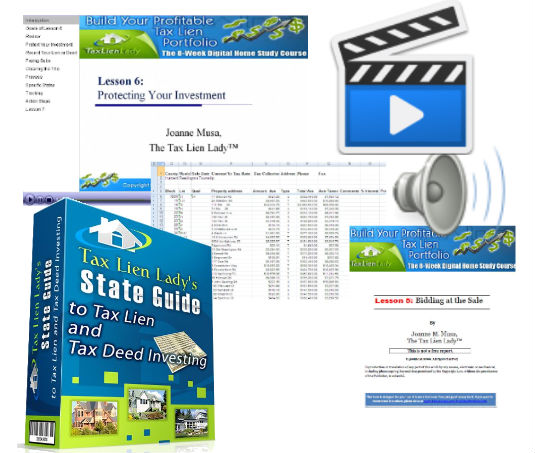 Home Study Course
8 intensive workshops to Demystify the process of Tax Lien and Tax Deed Investing